04 May 2023
SOCAR AQS is re-certified for API Spec Q2, Second Edition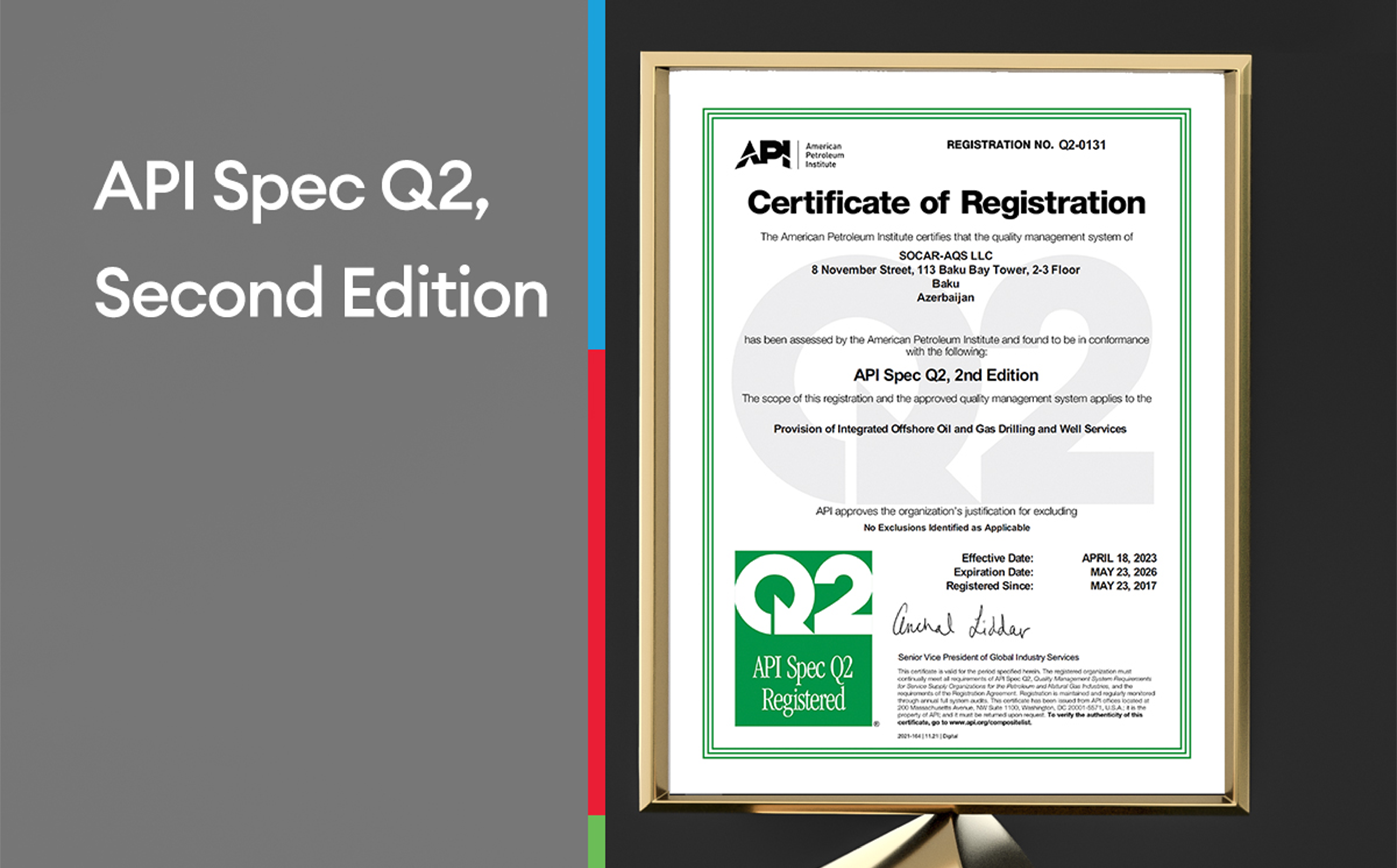 SOCAR AQS is pleased to announce the successful re-certification of its Integrated Management System by the American Petroleum Institute (API) for compliance with API Spec Q2, Second Edition, in the field of Provision of Integrated Oil & Gas Drilling & Well Services.
The second edition of API Spec Q2 strengthens safety, quality, environmental protection and sustainability requirements to facilitate the implementation of best-in-class standards in oil and gas supply chains. The services provided by SOCAR AQS comply with world-class API specifications, guaranteeing the excellence and practice of the oil and gas industry, as well as proving continuous improvement in safety, environmental stewardship and integrity of offshore operations.
SOCAR AQS General Director Samir Mollayev: "This certification is important as API Spec Q2 is one of the highest global standards in our industry, and I am proud that we have achieved this with a collective effort. I would like to take this opportunity to thank our QHSE team and everyone else who supported and contributed to the audit process."
"SOCAR AQS demonstrates that its Integrated Management System (IMS) meets world-class standards and it has been thoroughly tested by API's certified professionals. SOCAR AQS IMS complies with stringent requirements, and the API Q2 specification is the main quality management standard that improves the safety and consistency of industry products and operations", Samir Mollayev added.
We are confident in the benefits of API Spec Q2 both for the business and for the industry, and we will continue to provide customers with high quality services that meet all international standards.
Note to editors
SOCAR AQS is an integrated drilling and well services management company established in 2007 between State Oil Company of Azerbaijan Republic (SOCAR), Nobel Energy and Absheron Qazma LLC (AQS).
The company has many years of experience in the field of oil and gas well drilling industry while providing advanced drilling technologies and applying new management methods. SOCAR AQS has pioneered innovative approach in the national drilling industry, and it has a proven track record of excellence in delivering safe and reliable solutions.
SOCAR AQS is a member of International Association of Drilling Contractors since 2009, and it has fully complied with all applicable international standards.